If your transmission has begun to fail, you are facing a difficult decision on whether to have a transmission rebuild, repair or a full replacement. Like you, we are interested in the most cost-effective way to keep our vehicles on the road and running smoothly. A new car or a brand new transmission may not be in your budget at this time. So what can you do? You can talk to one of our A Plus Transmission Specialists® about a transmission rebuild.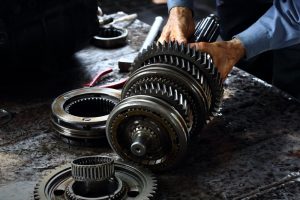 A transmission rebuild could be your best solution to your transmission woes. We've learned from our many years in business that a whopping 70% of the time a major transmission repair is not needed! A transmission rebuild can save you money because we will repair and rebuild only the specific damaged parts in your current transmission.
Transmission Rebuild Experts on Hand Every Day
Our A Plus Transmission Specialists® are equipped to handle any of your transmission rebuild needs. Our Houston, Austin, Round Rock, San Antonio, and Cedar Park transmission rebuild shops are equipped with state-of-the-art transmission rebuild equipment. Our courteous, highly-trained transmission rebuild specialists are here to serve you and get your car back on the road as fast as possible. We keep the long-term health of your transmission in mind on every single transmission rebuild we perform.
Having A Plus Transmission Specialists® diagnose the faulty parts of your transmission and complete your transmission rebuild can extend the health and life of your vehicle.